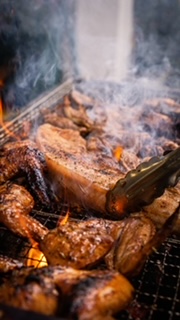 As BBQ cooking has really taken off in the UK many businesses are looking for ways to uplift and upgrade their Barbecues. Gone are the days where you pulled out a rusty metal thing on legs, blew off the cobwebs from last summer or even the summer before and then poured petrol over some charcoal to get some coals. Those days are fading fast and BBQ areas, or a more upmarket gas and charcoal barbecues combination are becoming commonplace and can enhance an outdoor area and generate extra income for your business.
As popular as Love Island
One of the biggest steps for many people is to create a more permanent BBQ area that is more often under cover so that the wonderful aromas of the BBQ can be enjoyed all year round. As this trend grows the BBQ Island is now becoming as popular as Love Island. But what do you need to create a BBQ island, especially if you are creating one for a business and entertainment venue?
But what is required to for the ideal BBQ Island and how and where do you build?
Planning your BBQ Island
The first thing you need to do is plan. Creating a BBQ Island is like designing a kitchen and you need to know how much space you have to work with, the position for components of your BBQ Island to ensure you have flow and things like where to cook vs where to eat. Planning will ensure you end up with a practical and functional BBQ Island that works for you and one that you will enjoy using.
First, consider where you are going to build your outdoor kitchen. If you have a garden or an area allocated you need to make sure you have space for all you need and you should make sure the ground is level and that you can dig and lay foundations. If you already have a patio and want to use the area, then plan your appliances and grill around it. There are a wide range of outdoor grills and equipment available and it is important to ensure it fits into your space.
BBQ Island Equipment
While considering the location of your BBQ Island think about safety, especially if you are going use a charcoal grill. Other than this there are a few key components you need to include:
Grill – you will need to choose between a charcoal or gas grill – if you have space you can have the luxury of both
Counter space near the grill – counter space is vital, and it becomes more important in a commercial environment where you are generally cooking for more people and cooking a wider variety of dishes
The eating area – this is not always essential, and you may choose to eat at normal outdoor tables and chairs, but it is a nice addition especially when you want to share a few drinks while cooking
Storage – of you think about how important storage is in your kitchen the same is true for your BBQ Island – the more storage space you have the better
Fridge – whether you choose a free-standing or built in fridge is up to you, but a fridge is a vital part of the perfect BBQ Island
Stainless steel sink – making sure your BBQ Island not only has access to electricity but is plumbed is essential and a stainless-steel sink designed for outdoor use will make food preparation outside a breeze
Hand wash sink – Especially important to comply with hygiene regulations
Shelter – both to provide shade from the sun and protection when the weather turns bad (so you can BBQ all year round) you need to cover your BBQ Island
Do it right
A BBQ island doesn't have to be fancy, but it does need to be practical and you do need to make sure you choose the right grill for its purpose. Investing the time, effort and money in a barbecue Island will be something you will never regret and with my help you can be assured you will end up with the best outdoor kitchen possible… trust me, I am a BBQ Master and you can trust me to provide the best BBQ advice on everything outside of my culinary expertise!