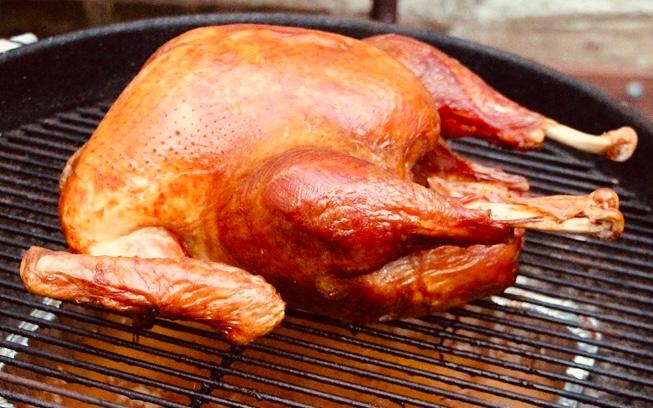 A traditional Christmas lunch is very much a part of Christmas. Family and friends celebrating over a wonderful meal is tradition and, in many ways, the same every year. However, we live in times where people want to do things differently and one way to make things differently is to cook Christmas British Turkey on the BBQ.
You may well say that a Christmas Turkey is far too huge to cook on a BBQ, but you would be wrong. Cooking a turkey and the trimmings on the grill (Gas or real coals) is totally possible and totally delicious!
The entire Christmas lunch
In fact, the entire Christmas lunch from the to roast potatoes and even sprouts can be cooked on a BBQ. The number of UK people using their Barbecue in winter is increasing every year and growing numbers of families are using their BBQs to produce magnificent Christmas lunches. There is nothing daunting about a winter BBQ or cooking Christmas lunch in your BBQ oven or smoker, it is all about getting the temperatures and timing right.
From beginning to end, cooking Christmas lunch on the BBQ should take around 3-5 hours depending on the size of your turkey. Preparing the turkey for a slow cook on your grill is part of the trick to getting things just right. Basting the turkey and wrapping some bacon over the bird will ensure the meat is moist and you should work on about 20 to 25 minutes per pound when working out the cooking time. I stuff the cavity with apples to help keep it moist!
Preparation makes it easy
Preparation all round makes a makes the whole Christmas lunch on a BBQ a walk in the park. Remember everything is "oven baked" when cooking your lunch on your fire, no boiling but some sneaky parboiling of the vegetables can help with the cooking process. Roast potatoes on the BBQ taste amazing, if using charcoal and wood the food comes out with a nice smoky flavour that makes the entire lunch taste amazing and different. Yes, with some oil, onions and herbs sprouts can be BBQed too.
Much of the chef's job when cooking Christmas turkey on the BBQ is to sit and wait. The turkey needs longer than the vegetables that typically take around an hour and thus it is a very relaxed way to make a Christmas lunch. If you have a second BBQ or grill you can cook some pre-lunch snacks or starters. Maybe some pork chipolatas in some mini rolls served as mini hotdogs or some small chicken kebabs just to whet the appetite. Alternatively, some marinated pork ribs make excellent nibbles before the main course.
BBQ Christmas Dessert
If you are having Christmas pudding for dessert you can easily warm the pudding through on the BBQ while you are eating. However, there are plenty of desserts you can make on the grill just to show off your BBQ skills. Grilled pineapple rings served with ice cream is a quick and easy favourite to add something tropical to your traditional Christmas lunch. Grilled or baked bananas with chocolate chips and marshmallows are a big favourite with the kids or doused in Irish Liqueur Cream for the adults and so easy to make and off course make the chef look like a pro.
Overall, cooking the complete Christmas lunch on the BBQ is entirely possible so why not give it a try!
Happy Christmas from Love British Food Ambassador Ben Bartlett and see you at a food festival in 2024!