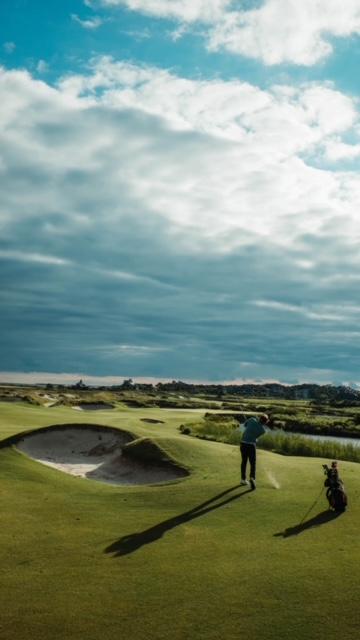 It is fair to say that a few golf courses and golf clubs are not as creative as they could be when it comes to feeding players. The 9th hole or halfway house is a point in any golfers' game where a good meal or snack is welcomed for any number of reasons. A Barbecue at the halfway stage of a round of golf makes a great way to feed and keep golfers happy, and it is so simple and easy. Though you will need a BBQ designed with strong large wheels to easily move onto the greens.
At the halfway house golfers have walked nine holes of a golf course. They are hungry, and a little tired but a big meal at this point could be futile to the second half of their round (mind you in some cases this might not be a bad idea!). A BBQ at the halfway house is the perfect way to provide a delicious yet not over-filling meal and make it something that any golfer will enjoy. So what do you cook at the halfway house on the BBQ?
Finding the balance between just enough and more than enough is the key to a successful halfway house BBQ on a golf course. Cooking a three-course meal is not ideal as golfers want to get a move on and don't want to feel sluggish teeing off on the tenth either. At the same time, they do not want to feel starved by the time they reach the 15th or 16th hole making the last couple of holes a concentration nightmare.
The answer lies in producing simple, small bites and making them tasty, filling and not bulky. Steak is perfect, no not a full T-bone with lashings of veggies and starch. One of the most delicious and easier things to produce on a BBQ is a simple Prego Steak. This quick to cook steak is marinated in a Portuguese sauce and can be prepared in just a few minutes on a Crown Verity gas barbecue. Served on a fresh Portuguese with a small salad on the side, a prego roll is quick, easy and filling and while it cooks the smell from the BBQ is fantastic. Equally this same easy to prepare Barbecue meal can be made with a chicken breast. The steaks and/or breasts can be kept in the refrigerator in the marinade and pretty much cooked to order.
Cooking to order on the BBQ at the halfway house on a golf course is part of making the concept a success. When considering what to serve, ideally one needs something that is pre-prepared that can be stored easily and that cooks quickly. Kebabs on a skewer are also perfect for the 9th hole, and you can get as creative as you like. Chicken, beef, pork or just vegetables and fruit pieces make tasty, filling and easy to cook meals that any golfer will love.
Of course, you could go with conventional burgers and hotdogs, but conventional doesn't have to be boring. Homemade patties made from lamb, turkey or super healthy ostrich meat make excellent more unusual burgers. Far better than any factory made burgers these can be stored easily and even frozen for later use. Another superb idea is to use venison for the burgers and really be up market. The Crown Verity mcb-36 can cook up to 280 burgers an hour.
Hotdogs need not be boring either. Choosing some sausage made by a local butcher makes terrific hotdogs but making your own sausages and getting creative takes things a little further down the gourmet road. Try Pork and Black Pudding, Sweet Chilli Chorizo, Venison and Pepper or Hickory and Chipotle!
Get creative with your barbecue at your halfway house. There is something wonderful about food cooked on the BBQ that makes a round of golf even better. Even the person having the worst round of their life will feel better with a great meal that tastes amazing and is, above all, different.