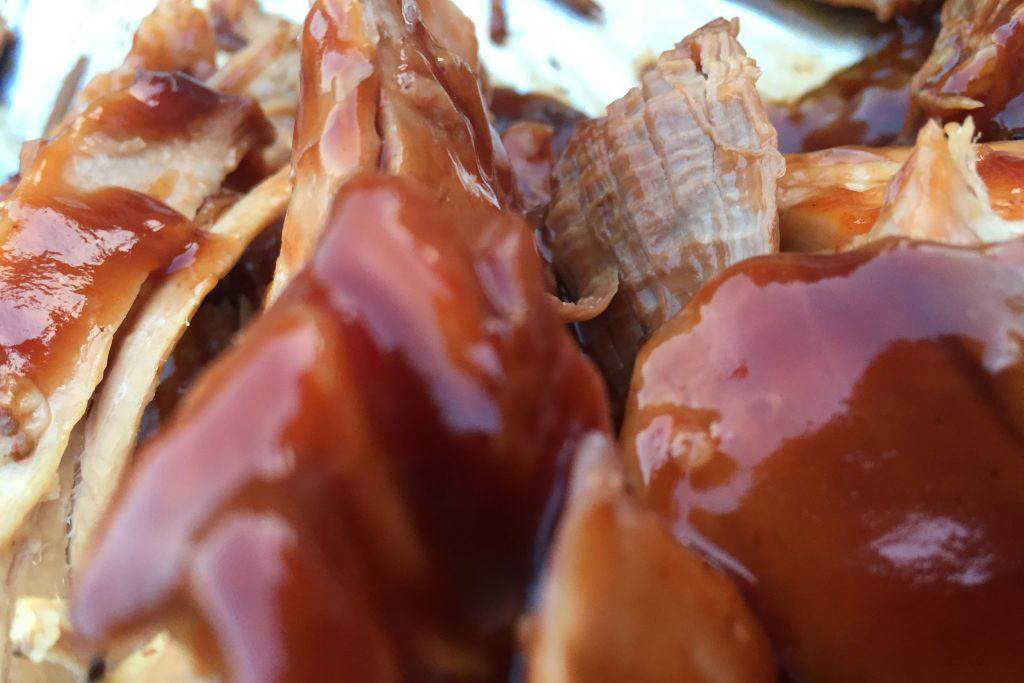 Ingredients:
3–4 kg (6–8lb) pork shoulder on the bone
50g (2oz) yellow American mustard
100g general pork rub
100ml rapeseed oil
100ml apple juice
300ml barbecue sauce
20 slider buns or small round dinner rolls, split and toasted
Recipe for Pork Rub
8 Tbsp smoked paprika
4 tspn onion powder
4 tspn garlic powder
2 tspn cumin
4 tspn black pepper
1 tspn cayenne pepper
4 tspn celery salt
Combine all the ingredients and store in an air-tight jar.
Preparation Time 9 hours 20 minutes
Serves 12
Method:
1. Rub the pork shoulder with mustard
2. Use a spice sprinkler to coat the outside of the meat with a generous amount of pork rub
3. Indirectly smoke the meat at 110°C (230°F) for 8 hours, turning every 2 hours so no side gets too much heat
4. Mop the meat with an equal mixture of rapeseed oil, apple juice and a tablespoon of the pork rub
5. The pork is ready when the internal temperature is above 85°C (185°F).
6. Cover and rest for an hour. Then transfer the meat to a cutting board. Using two forks, pull meat apart into shreds, discarding any fat or gristle
7. Place in a bowl and stir in the barbecue sauce
8. Spoon the meat mixture onto bun bases.
Recipe by BBQ Masterchef Ben Bartlett 2017