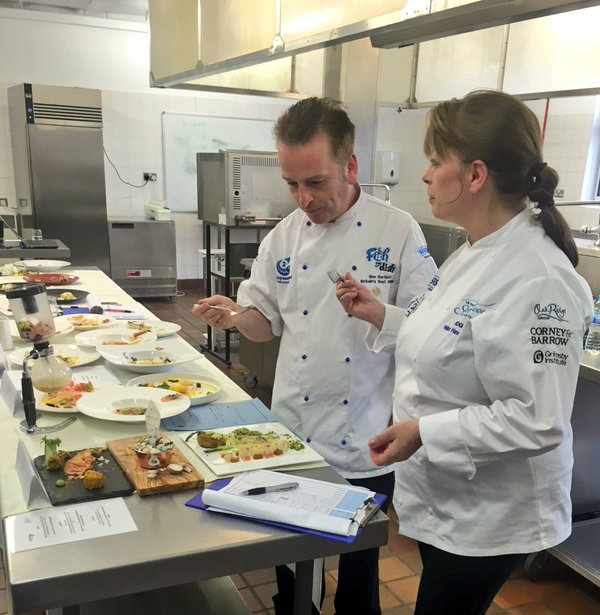 Best known for my BBQ expertise my other passion is seafood. Seafood is an important part of our diet, it can, of course, be cooked on the Barbecue and informing others about seafood of all kinds is essential. For many reasons, I am honoured and proud to be a Seafish Ambassador.
My Role as a Seafish Ambassador
My passion for good, healthy cooking is the main reason why I am a Seafish Ambassador. Seafood is healthy and yet many people know little about it and how to cook it. For a lot of people, the only time they eat fish is at the Fish and Chip Shop or when eating sushi. One of the duties as a Seafish ambassador is to educate people about seafood. Demonstrating how to fillet fish, the various ways to cook fish (of course there is the BBQ option) and the different types of fish. Dispelling the myth that cooking fish is difficult and showing people how quick and easy fish is to cook soon changes the minds of people and fish becomes part of their everyday diet.
Not just cooking
My passion for cooking with fish is well-known but as a Seafish Ambassador, it is not all about cooking. The seafood industry is an important part of the UK economy and many fish stocks are under threat. Educating people about the seafood industry in general and informing them of the importance and value of the sector is a massive part of the role. Of course, helping people understand the health benefits of eating fish is also important. I am passionate about fish and I make it a priority that I play my part in keeping the fishing industry alive by highlighting the holistic value of seafood both for human consumption and for the economy.
Who is Seafish.Org
The UK seafood industry is worth around £10 billion and Seafish is a Non-Departmental Public Body (NDPB) set up to support this. Established to support business, communities and the environment as well as to promote the health benefits of fish, Seafish has a clear vision for a thriving, sustainable UK Seafood industry. The organisation is funded from a levy of the first sale of seafood products in the UK.
There are many stakeholders in the UK Seafood industry that are supported by Seafish from the moment fish is caught through the food processing and retailing services and finally onto a plate. Each stakeholder has a vested interest in a sustained seafood industry and the work of Seafish ensures this is so. Through ambassadors, Seafish works beyond the stakeholders to add value to their objectives working closely with universities, colleges, research institutes, public bodies and various other players in the food industry.
Ben Bartlett: Seafish Ambassador
I know how important Seafood is as part of a healthy diet, I love cooking with fish, and I am passionate about supporting the fishing industry in the UK. My role as an ambassador brings me together with many people from general consumers to fisheries experts where I can share the joy of seafood. I am delighted to have just written 3 recipes in the new Seafish Recipe Book with Cod Burgers with Herb Mayonnaise, Mexican Style Fish Burgers and Homemade Seafood Pizza. To find out more visit www.seafish.org