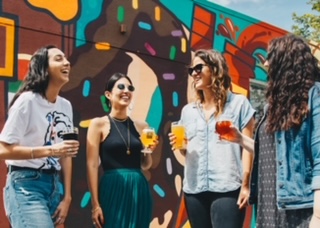 When we think of anything virtual, we build up a picture in our mind that resembles the real thing. We all can imagine, some better than others and with advances in technology our imaginations have helped us create virtual worlds, spaces, and places. In these virtual spaces we can see and hear but cannot touch or smell and thus they lack something important.
The coronavirus pandemic has seen a massive rise in virtual meetings. The virtual office spaces we have created have become a valuable part of keeping economies alive. Lockdown saw many real places close their doors, some sadly forever. One industry hit hard by the pandemic has been the food and entertainment industry for whom virtual dining or entertaining doesn't really work. Or does it?
As a BBQ Chef, Master Chef and Beer lover much of my work could have easily come to a grinding halt thanks to lockdown. Venues were not open; people could not gather, and food could only really be delivered. While the likes of Deliveroo and other food delivery Apps thrived the real joy of having meal together with friends was gone. Takeaways were the only way in which the Great British Public could support local pubs and restaurants. Ordering takeaways online and having them delivered was the lifeline much of the industry needed.
But what about beer? Leading up to the pandemic the UK's craft beer sector was growing fast; people were exploring new beers and new tastes with amusing and interesting names and suddenly much had to change. The few craft breweries or larger brewers with craft beers such as Adnams and Brew Dog that had tentacles reaching into the big the supermarket chains could continue to pedal their wares. Those who were smaller survived largely through the historic network of local pubs, bars, and restaurants and because these were close suddenly sales would drop. Amazing breweries such as Oakham Ales in Cambridgeshire and Stonehouse Brewery in Shropshire needed to think out of the box.
The out of the box thinking needed by smaller beer makers was of course virtual beer. During the pandemic and through the various lockdowns the world has gone online. Craft Beer and Real Ale needed to online too, but how?
The answer was and is very straightforward and to sort of follow the herd in terms of online delivery and then adding a twist. Real Ale and good beer in general are more than just a glass of liquid, beer is an experience. Turning real ale into an experience was what was needed and if that same experience could be shared by households or groups of friends who could not gather in person even better. As a master chef and experienced food demonstrator I knew exactly what had to be done and before I knew it, I had teamed up with some people who could make the magic happen.
Beer and cheese pairing or tasting has been a large part of the success of real ale and craft beer in the UK. Pubs, bars, and restaurants all over the country match great and unusual beers with equally great and unusual cheeses. It has been a huge success. Turning this into a virtual beer and cheese pairing wouldn't prove difficult once some likeminded individuals and some creative thinking came together. This was easily done, and 10 breweries and 6 cheese makers came to the party to create the ultimate virtual British Craft Beer and Cheese Tasting at Home experience.
With the help of Class Bento, a wonderful virtual British Beer and Cheese Event hosted by me could be brought to the homes of anyone in the UK. A simple concept that delivers six 500ml bottles of craft beer along with six contrasting cheeses from British Artisan Cheese makers to your door and then hooks you and your friends up with me by zoom. Using all the tools Lockdown has taught us how to use a beer and cheese masterclass is presented in your own home. Old fashioned real ale and beer has entered the 21st century!
Making a virtual beer was and still is impossible but making the experience of enjoying great beer and amazing cheese virtual is possible. Technology and lockdown combined have changed the way we do many things and real beer makers, and local cheese producers can all take advantage of it.  Online beer and cheese pairing has brought people together when the world said they could not gather, and great beer and equally great cheese has been given a lifeline in a tough new world where a pending lockdown is something we want to avoid but is to a degree out of our hands.
https://classbento.co.uk/british-craft-beer-and-cheese-tasting-at-home