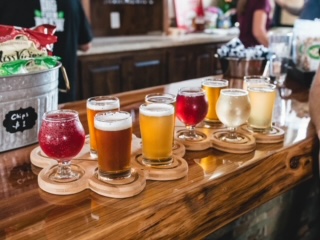 On 15th June, the UK celebrates national beer day. This is your chance to enjoy some of the many amazing beers that the UK has to offer. There are over 3,000 craft breweries in the UK, a number that grown progressively in the last few years. With so many breweries, each offering their own distinct beers, not forgetting the mainstream brewers and even the supermarkets today there is a lot of beer to choose from.
Pie and a Pint
All over the UK pubs have served food with beer since public houses first opened hundreds of years ago. A pie and pint are commonplace and there was even a TV Sitcom, Two Pints of Lager and a packet of crisps, if you needed proof that beer and food go together you need look no further. But in the UK today just having a beer with a meal (or a packet of crisps) is not enough and people want more. Not more food and not more beer but more from the two coming together.
Beer and Food Pairing
For decades wine tasting, wine pairing with cheese, chocolate and even curry have been popular around the world and here in the UK on the many wine estates around the country. In recent years beer and food pairing has become popular and as BBQ master, master chef and member of the British Guild of Beer Writers, Ben Bartlett AKA Barbecue Ben knows only too well. For a master chef and beer lover (or is it connoisseur?) bringing good food together with some of the amazing and unique beers found around the UK is somewhat of a passion.
More than cheese
Wine and cheese events have proven extremely popular over the years, and now beer and cheese tasting, and pairing have become equally so. Bringing good British "craft" cheeses together with craft beer is good way to showcase local delicacies. During national beer day there will plenty of this going on and there is nothing wrong with it. However, beer can be paired, partnered, and drunk with many other foods and a full three or more course meal can be had with a different beer for each course.
Not Just Pints
To really get the most out of good beer and good food you do not need vast quantities of ale. Smaller, half or even less pints of beer to be sipped and tasted with the food in front of you bring flavours together. Beer drinking can now be classy and when different beers and different foods are tasted properly the flavours of good beer and great food collide. Beer and food pairing can be done at home with family or in an organised manner with a master such as Ben Bartlett or at a local pub or brewery. When you know what you are looking for in beer and food pairing an entire new world of taste opens up and then the fun begins.
Hosted Events
National Beer Day will have plenty of beer and food tasting opportunities, but these events also happen year-round. With summer finally with us finding a hosted beer and food event has never been easier. With a choice of virtual and in person events that introduce you to the diversity of British beer there is plenty of enjoyment to be found.